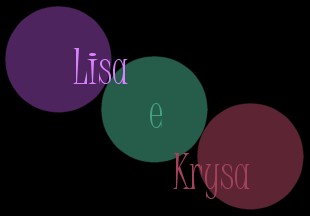 Starting on January 1st 2002, nominations for the 2001 Lisa e Krysa awards will open. Any Mulder/Krycek story written between January 1st 2001, and December 31st 2001 is eligible for nomination.
Stories must focus on the Mulder/Krycek relationship. Stories that have either Mulder or Krycek having sex (consensual or non-consensual) with another character, but ultimately focus on the M/K relationship are eligible. Crossovers are also eligible, provided the M/K relationship is in the main focus of the story. Stories that focus on a three way relationship (M/K/Sk, M/K/Sc etc.) are not elligible.
Stories must be archived online, through an archive (Down in the Basement, RatB, etc.) or through a personal page. Stories that were posted to mailing-lists, newsgroups, etc., but were not archived are not eligible for nomination. Stories that were previously published in 'zines but are now available online are eligible, provided that they were posted online during the year 2001.
Stories nominated should reflect the categories they are nominated in (more about the categories here), but, with the exception of the length categories, the choice is left to the discretion of the readers. Stories may be nominated in more than one category.
You may nominate five stories in each category. On January 27th 2002, the nomination period will end. Any nominations received after this date (in your locale, not mine) will not be accepted. All the nominations will be counted, and the five stories with the most nominations in each category will be named finalists.
On February 2th 2002, the finalists will be announced, and final voting will begin. It is strongly encouraged that you make sure you've read all the stories before voting. It's only fair that you consider all the stories in a category before deciding which is best. In addition, some of the stories may be lesser known, and LeK is proud to be presenting such quality stories to a larger audience.
One person: one vote. That is the rule. Some fanfic awards have report trouble with cheating, but I'm happy to say that LeK has never had a problem with this. I believe that there is a lot of integrity within the M/K community, and I hope that you all prove this by again showing honesty within the voting process.
Voting will be open until March 2th 2002. Any votes received after this date (in your locale, not mine) will be not qualify. The votes will be counted, and the "awards ceremony" will then be assembled. On March 8th, the celebrated anniversary of "The Kiss", the awards winners will be announced.
_____________________________________________________________________
| Main | Categories | Finalists | Vote! | Award Archives | Link to Lek | Webrings | Email Me |