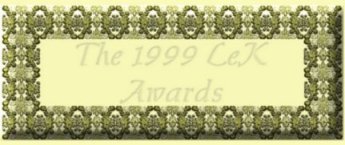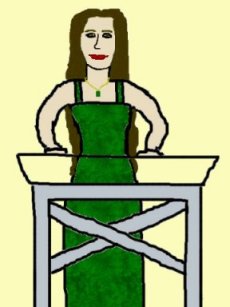 Hello, and welcome to the first annual Lisa e Krysa awards! I'm your host, Araxdelan, here to present the awards to the winning authors. We here at LeK tried to get Chris Carter to host, but he declined for some reason...
I've been working hard tallying up all the votes, creating all these pages, and stroking the egos of all our deserving nominees. Now comes the big moment. Below are links to the announcement pages for each category. Click to see excerpts from the nominated stories, and then the opening of the envelopes.
Closing Thoughts
When I decided to start Lisa e Krysa, I didn't quite know what I was getting into. It's been a lot of hard work, a lot of late nights, and not all that much thanks. But it seems to make people happy. And I like that. I also like the silly excitement that comes with tallying up nominations and votes. The awards are hard work, but they're also fun.

A few days into the voting process, I made a decision. I've decided that I'm going to continue LeK next year, and for however long there's enough interesting M/K to justify having them. And don't think I'll go back on this. When I make a long term commitment, I stick to it!

I'd love to hear comments on how I've done, and suggestions for next year. I'm sure the awards could use some refinement, and next year I'll have a little experience under my belt and things should run much more smoothly. Questions and comments should go to lisaekrysa@hotmail.com. Hey, should I have "guest presenters" pick out the excerpts and write the intros next year? Or am I insane?

Thought the awards sucked? Thought a deserving author got screwed when they didn't win? Want to congratulate the winners? Can not believe Araxdelan wore that dress? Write about it here. C'mon, I want to hear what you have to say!

Don't feel like gossiping, but want to read some? Go here.